A Quick History of Hair Brushes
The history of hair brushes do not have a definite inception date. The one thing that is known is that they were all made from natural materials. Handles were formed from wood, bronze or copper. The bristles could be anything stiff. Animal hairs, such as wild boar or horse, were rigid enough for brushing. Porcupine quills were even stiffer. Shards of sea shells, stones and bone could be sized to untangle a snarl or knot. One theory is that the paint brush used for millions of years was slowly transformed into a hair brush. When someone decided to drill holes in a handle and somehow add bristles that stayed, is still unclear.
Portraits and sculptures of ancient Greeks and Romans showed tidy, braided or styled hair. Unearthing Egyptian tombs revealed hair brushes along with combs and mirrors. Their carvings and paintings on walls and pyramids also showed neatly kept hair or wigs.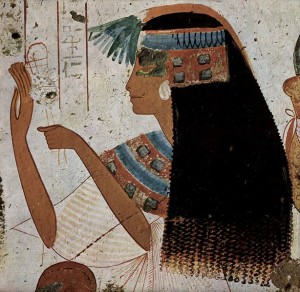 To this we assumed was due to some style of a hair brush. In ancient times, grooming was necessary to reduce the amount of head lice. Brushing hair or producing wigs to look refined was a luxury only afforded by the prominent people of that time.
As society grew and became more civilized, the need for a hair brush was more for aesthetics, rather than for general grooming, but it still remained in favor for the wealthy. Hair brushes were commonly given to new brides and new mothers. They were a popular gift for a husband to give a wife. An ornately designed set that contained a hair brush, a comb and a mirror were enjoyed.
Eventually the demand for hair brushes increased. William Kent founded the first hair brush manufacturer, Kent Brushes, in 1777 in Great Britain. It took as many as 12 people to complete one hair brush. The bristles were hand stitched. They still remain one of the oldest companies in Great Britain. Another Englishman invented the automatic brush boring machine in 1885. This way more brushes could be manufactured at a faster rate. Mason Pearson also created a pneumatic rubber cushioned brush that same year. This style still remains popular.
Hair Brushes in the United States
The United States had their fair share of hair brush innovators. Hugh Rock was the first to patent a hair brush design. He was known to create beautiful gift sets with metal handled brushes with matching combs and mirrors. Quite often they had scalloped edges to add to their beauty. Samuel Firey put in a patent in 1870 for his elastic wire teeth. He combined them with natural bristles to get the best of both worlds. In 1898, a patent for synthetic bristles was presented by Lyda Newman. She also created detachable handles and air chambers for ventilation. These air chambers, known today as vented brushes, still work well for today's hair blow drying society.
In 1906, Alfred Fuller shared the hair brush by selling door to door. He created a better brush and created his Fuller Brush Company. His goal was to make a long lasting brush that was affordable by all. As his company grew, his products grew to keep up with the modern world.
Modern Hair Brush
Now hair brushes are in every home and thankfully they are not just for the wealthy any longer. Handles are still made by wood, but plastic ones are light weight and less expensive. Nylon bristles, both with and without tiny balls on the end, are manufactured today. Hair brushes can be found in all sizes, shapes and colors today and many at affordable prices. They are available for different uses, for example, everyday brushing, styling and to be used with blow dryers.
The Future of Hair Brushes
Today there are an enormous variety of hair brush types available. There are flat brushes, round, half round, and vented to name just a few as well as brushes made for specific hair types, such as straight, wavy or curly.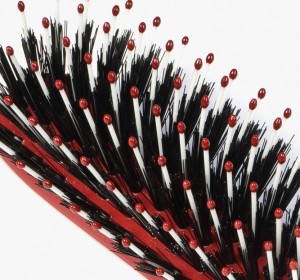 Most hair brush companies design a new brush for each of these specific functionalities. For the average person and even professional hair stylists and salon owners this can be a confusing and expensive endeavor. So we came up with a unique idea, create hair brushes that will work great for the maximum number of these different functionalities and hair types in each brush. That is why Brigitte's Brushes are designed with tips and bristles in the same brush, which allow them to work well with all types of hair including wet, dry, and tangled hair. The history of the hair brush may not be well known, but the future seems crystal clear, check out one of our brushes and experience the future.